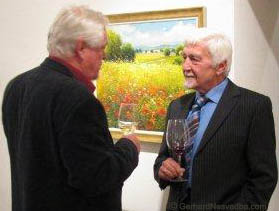 Gerhard Nesvadba has thousands of collectors worldwide, mainly in the United States and Europe.

To purchase any of the available paintings shown, or to commission a custom painting by Gerhard Nesvadba, contact the Art Collector Sales Office at the number below.

Payments by Visa, Mastercard, Amex and Discover are gladly accepted. Prices are at the bottom of this page.



To purchase any of the paintings shown, or to commission a custom Gerhard Nesvadba painting based on a photo of a previous painting in any size, contact Chris James at 804-740-1569.

Prices for paintings are as listed at the bottom of this page.

Unframed paintings being shipped within continental USA will be shipped and insured for free, and will be shipped rolled (unstretched).

Paintings on this website are updated as paintings sell, and as new paintings are completed. In-stock paintings are also available for viewing in person at our retail location, West End Gallery in Virginia.




PAINTING PRICES BY SIZE
(unframed in inches)

9x12 $1,250
16x16 $1,680
16x20 $1,740
16x31 $1,750
20x24 $2,090
27x23 $2,480
27x31 $2,650
24x36 $2,680
31x31 $2,880
39x27 $3,150
31x39 $3,590
35x39 $3,820
39x39 $3,999
36x48 $4,580
48x48 $5,210
48x60 $5,650
48x96 $6,980

(United States Dollars)
*Prices subject to occassional change
Taxes are not included. Currently sales tax is not collected by
us, except for art picked up in person, or shipped to Virginia.
European countries may have taxes payable directly to your local
governments at the time of delivery. Please look into your local tax code.